I am continually in awe of the many uses of hypnosis!
http://www.mirror.co.uk/news/world-news/worlds-first-deep-brain-surgery-9596821
   Fear is a necessary tool meant to keep us safe. If you feel that creepy sensation that someone is following you to your car, it is waking you up to be vigilant! BUT….fear can go from tool to MASTER and keep us from going forth confidently into the life we were meant to live.
Where fear really becomes a liar is when we listen to the the negative self talk that is driven by the fear of failing, disappointing someone, or making a "mistake". At that point the tool has become the master.
Hypnotherapy can help you become the master of fear, and return it to the tool box where it should only be used when absolutely necessary.
What are you afraid of?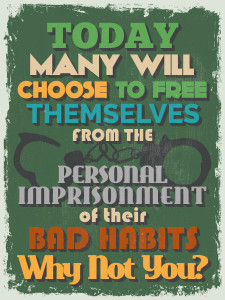 When most people think of healthy resolutions, usually what comes to mind is quitting a bad habit, exercising more or losing weight. Sometimes it might even be something more esoteric like meditating more or reconnecting with something else spiritual that they feel has been missing. All are wonderful and as important as one would expect.
In my line of work, I see people all the time who have something that is not working in their life and they are (usually) at the end of their rope. They have tried all measure of methods, only to have them fail. So, in my opinion the healthiest resolution that a person can make is one that will change their thinking, thus changing their behavior, thus changing their experience.
We have between 60,000 and 70,000 thoughts a day. Almost all are the same as the day before, leading us to create the same behavior and then roughly the same experience as the day before – day after day. It is becoming more mainstream for our culture to use phrases like 'your thoughts create your reality' or to use positive affirmations. But the truth is that positive thinking only works for a very, very small part of the population – roughly 5 percent. The rest are left feeling like yet another attempt at improving their lives has failed.
Hypnosis and hypnotherapy help you to change your thoughts. You gain direct access to the sub-conscious mind where all of your past experiences are stored and used to determine what to expect in the future. You can change how you feel or think about someone or something, this then alters the sub-conscious motivation for our thoughts, feelings and behaviors that we act out, ultimately modifying our behavioral process which will now create a different experience.
Think of your mind as a bus. Now the sub-conscious mind accounts for 88-92% of all of our motivations, thoughts, feelings and actions. Our conscious mind – the part responsible for logic, reason and short term memory – only 8–12%. Ask yourself "Who is driving the bus?" I tell my clients that the monkey is driving the bus – the Monkey Mind that is.
To make a resolution to gain control over our thoughts, feelings, emotions and ultimately our body sensations is perhaps the most important gift we can give ourselves. I personally believe it is the foundation for health and healing. It is something that everyone can learn, and with practice we can all take control of the bus and put the monkey mind to rest.