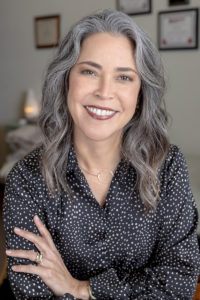 "Human behavior has always been a fascination of mine. After a very personal, powerful experience with hypnotherapy in 2007 I knew that one day I would become a hypnotherapist myself. I have had the honor and privilege to witness positive change in my clients, friends and family."
Stress on the body and mind can present itself in many ways. As a Certified Hypnotherapist, Certified Biofeedback Specialist and Silva Life System Graduate, Gila offers a multi-level approach to reversing the negative effects of stress.
She actively pursues continued education on the subject of the mind-body connection and how it can be utilized for an optimum quality of life. Whether your issues are long term and chronic or have newly manifested, you owe it to yourself to try her proven methods of holistic wellness.
Gila is an Honors Graduate of the HMI College of Hypnotherapy, a recipient of the HMI Director's Award for exceptional professional achievement during clinical residency and practices in Los Osos, California. She continues to serve the student population as a member of the student advisory board.

She is available for speaking engagements and interviews on the subjects of Suggestibility, Relationship strategies, Hypnotherapy, Biofeedback, Handwriting Analysis, Decoding your Energetic Signature, Biorhythms and her personal adventures learning to meditate.
Languages Spoken
Hypnotherapy Specialties
Anger
Anxiety
Biofeedback
Body Image
Exam Anxiety
Fears
Habit Control
Obsessive behaviors
Panic Attacks
Past Life Regression
Phobias
Pre and Postsurgical
Public Speaking
Reach Goals
Relationship Enhancement / Strategies
Relaxation
Self Criticism
Self Defeating Behaviors
Sexual Dysfunction
Social Phobia
Stress
Substance Abuse
Trauma
Worry
Inner Child
Seniors
Experience
Since 2008, Gila has been helping her clients manage stress, pain and modify their behaviors. She has logged innumerable hours assisting clients through Hypnotherapy to make positive changes in their lives.
Education
Diploma in Hypnotherapy with Honors
Hypnosis Motivation Institute – Nationally Accredited College of Hypnotherapy – 818-758-2747
Date Started: 02/10/2014 – Date Graduated: 12/23/2014
Certification course 300 hours plus 200 clinical hours
Certifications
Certified Hypnotherapist
Hypnotherapists Union Local 472 – 818-659-8687
Certification Number: 26743197
Integrative Addiction Solutions
Center for Integrative Hypnosis
New York, NY
Quantum Biofeedback Specialist
Natural Therapies Certification Board BANA – 800-710-1539
Certification Number: 4636 QBS
Certifications from the American Hypnosis Association
Healing the Inner Child with Hypnosis
Certified Advanced Handwriting Analyst (CAHA)
Post Traumatic Stress Disorder
Hypnosis and Seniors
Other Certifications
Silva Life System Graduate – Apr 2012
Awards
HMI Directors Award
For Exceptional Professional Achievement During Clinical Residency
Professional Memberships
American Hypnosis Association
Member Since: 2014
Member Hypnotherapists Union 214
Certification ID No. 26743197